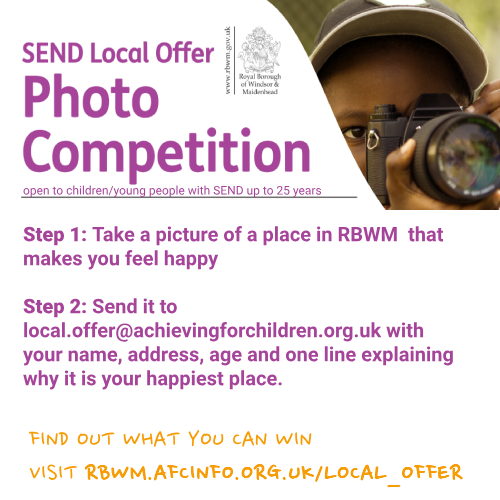 Open to children & young people with SEND up to 25 years
Step 1: Take a picture of a place in the Royal Borough of Windsor & Maidenhead that makes you feel happy
Step 2: Send it to local.offer@achievingforchildren.org.uk with your name, address, age and one line explaining why it is your happiest place.
Prize: The winning picture will be publicly displayed on the Local Offer website & you will receive a £15 Photobox gift card & your photo in a frame.
Terms & Conditions -
The SEND Local Offer photography competition is open to children and young people aged up to 25 years who live within the Royal Borough of Windsor & Maidenhead
You may submit one photo for the competition taken by yourself between the period of 17th February 2020 – 11th March 2020. Reflecting the chosen theme, 'My happiest place in RBWM'
The deadline for receipt of entries is Wed 11 March 2020. All entries must be submitted digitally. Competition results will be announced on Friday 13 March 2020 on the Local Offer and the winner will be contacted directly.
The first prize for the competition will be a £15 Photobox Gift Card, with your image being framed and printed and publicly displayed online.
The award of prize shall be at AfC's discretion and the judge's decision shall, in all matters, be final. Correspondence will not be entered into.
AfC may, at its discretion, publish entries via any media for reasonable promotional purposes.
The submission of entries shall be regarded as an acceptance of these terms and conditions.
The information collected about you in this competition is collected in compliance with data protection legislation. The information is held securely by Achieving for Children for the specific purpose of this competition and will not be shared with other agencies or organisations without seeking your explicit consent. For more detail, please read our privacy policy here: https://www.achievingforchildren.org.uk/privacy-notice/